People's Bank Reports Second Quarter Earnings
Medford, Oregon - People's Bank of Commerce (OTC PINK: PBCO) announced today its financial results for the second quarter of 2021.  
Highlights
Second quarter net income of $2,953,000, or $0.61 per diluted share
Year-to-date net income of $5,846,000 or $1.33 per diluted share
LTM EPS increased 82.5% from 2nd quarter 2020
Quarterly non-PPP loan growth of $10.6 million, an annualized growth rate of 10.4%
Second Quarter tax equivalent net interest margin of 3.68%, excluding factoring revenue
Steelhead factoring revenue increased 96.4% over Q2 2020
People's Bank reported quarterly net income of $2,953,000, or $0.61 per diluted share, for the 2nd quarter of 2021 compared to net income of $1,385,000, or $0.39 per diluted share, in the same quarter of 2020, a 56.4% increase.  The bank recognized year-to-date net income of $5,846,000 versus $2,496,000 for the first half of 2020, a 57.3% increase from the prior year.   Earnings per share for the trailing 12 months were $2.37 per share, up from $1.31 per share for the same period of 2020, an 82.5% increase.  Second quarter income continued to be positively impacted by PPP fee income due to pro-ration of the remaining unamortized origination processing fees at payoff.  During the quarter, the bank had a credit to the provision for loan losses, in spite of achieved portfolio loan growth, as economic indicators utilized in the ALLL methodology continued to improve.  Coupled with the bank's recent acquisition of Willamette Community Bank (WMCB) in 1st quarter, the bank was able to achieve higher earnings per share than in previous periods.
During the quarter, deposits declined $6.4 million, or an annualized 3.5%, as the bank utilized CDAR's to assist with managing balance sheet growth, resulting in approximately $21.6 million that was taken off balance sheet.  In addition, the bank evaluated and reduced deposit rates in the recently acquired WMCB division, as a means to assist with managing the bank's overall net interest margin.  This resulted in additional deposit attrition of approximately $14.0 million during the quarter.  On an annual basis, deposits grew by $318.5 million, an 80.8% increase from June 30, 2020, due in large part to the bank's acquisition of WMCB in first quarter, but also partly due to the bank's participation in the PPP loan program, which has created significant liquidity in the banking system overall.  We anticipate that some of the deposit growth from PPP will be temporary as bank clients look to make capital improvements and diversify investments as risk from the Pandemic eases over time. 
Beginning in 2nd quarter, the bank began to deploy some of its excess liquidity to the investment portfolio as an alternative to deposits at the Federal Reserve Bank.  Through the end of the quarter, the bank increased its investment portfolio by $52.5 million, a 101.7% increase from the prior quarter.  This shift from overnight investments to a balanced investment time horizon will assist with managing the yield on earnings assets in the low-rate environment we are experiencing today without reducing liquidity.
As of June 30th, core portfolio loan growth, excluding PPP, totaled $10.6 million during 2nd quarter, representing an annualized growth rate of 10.4%.  The bank's pipeline of approved credits remains strong, although some delays in funding have occurred due to increased time for completion of appraisals.  In addition, increasing construction costs due to supply shortages have impacted construction costs in our markets.  
Over the past year, the bank took an active role in originating loans through the Small Business Administration's Paycheck Protection Program (PPP) beginning in April 2020 with Round I and again during first quarter 2021 with the approval of Round II.  These loans were used to support payroll and other eligible expenses during the COVID-19 pandemic.  During the initial round of PPP, the bank funded 1,056 PPP loans totaling $95.4 million (WMCB originated 148 PPP loans for $25.8 million reflected in the bank's Q1 and Q2 PPP loan activity).  Through the end of 2nd quarter, the bank received Round I forgiveness totaling $112.1 million, representing more than 95% of the loans funded through Round I. 
The second round of PPP was opened at the beginning of Q1 2021.  The second phase was opened to allow new borrowers to participate as well as allow certain eligible borrowers to take a second draw PPP loan.  Through the sunset of Round II, the bank funded an additional $48.6 million representing 629 PPP loans and $2.8 million in PPP processing fees.  Of the loans funded in Round II, 73 loans representing $3.2 million had been forgiven through by the end of 2nd quarter 2021.  "With funding for Round 2 PPP discontinued in May, the bank now is focused on assisting clients with obtaining forgiveness," commented Julia Beattie, President and Chief Credit Officer.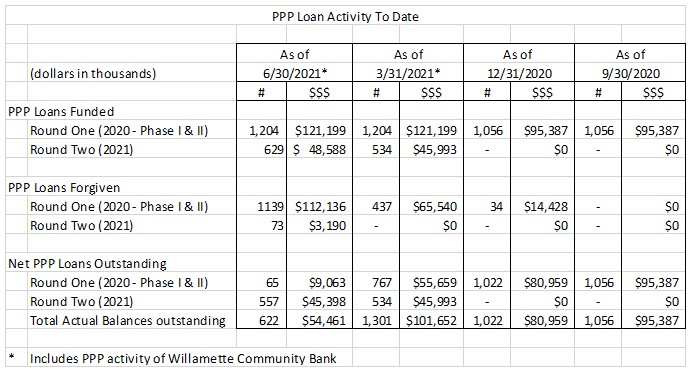 During the quarter, the bank experienced a decrease in classified assets, primarily attributed to principal payments on non-accrual loans and a reduction in ORE.  The ALLL for WMCB was eliminated at the completion of the merger and a fair value adjustment was applied to the outstanding portfolio.  During 2nd quarter, the ALLL was updated based on new loan growth achieved during the quarter and updated economic expectations which were factored into the bank's analysis.  As of June 30, 2021, the ALLL was 0.92% of portfolio loans excluding PPP and the unallocated reserve stood at $1.02 million or 25.2% of the ALLL.
Second quarter 2021 non-interest income totaled $2.9 million, which represents an increase of $825 thousand over the 2nd quarter of 2020.  During Q1 2021, the bank recognized a bargain gain of $2.3 million from its acquisition of WMCB, which was a one-time, non-recurring component of non-interest income.  During the quarter, Steelhead Finance factoring revenue increased $779 thousand, a 96.4% increase over the same quarter in 2020.  Conversely, mortgage income decreased $263 thousand, or a 27.4% decrease from 2nd quarter 2020.   "Over the past year, People's Bank has performed extremely well during the pandemic, due in large part to the bank's Steelhead Finance factoring and mortgage divisions, which have positively impacted the bank's income during the low-rate environment," commented Ken Trautman, CEO.  "Mortgage slowed during the first quarter due to slightly higher interest rates and a lack of inventory in our markets coupled with staff turnover experienced during the quarter.  Both the Steelhead and mortgage divisions are unique in that expenses can be scaled with changes in volume," added Trautman.
Non-interest expense totaled $5,948,000 in 2nd quarter, down $1,737,000 from the first quarter.  This was primarily the result of one-time merger related expenses of $2.87 million recognized when the merger with WMCB was completed in March 2021.   
For the twelve months ending June 30, 2021, excluding one-time merger adjustments, earnings per share would have been $2.47, versus $1.21 for the same period ended June 30, 2020.
About People's Bank of Commerce
People's Bank of Commerce's stock trades on the over-the-counter market under the symbol PBCO.  Additional information about the Bank is available in the investor section of the bank's website at: www.peoplesbank.bank.
Founded in 1998, People's Bank of Commerce is the only locally owned and managed community bank in Southern Oregon.  People's Bank of Commerce is a full-service, commercial bank headquartered in Medford, Oregon with branches in Albany, Medford, Ashland, Central Point, Grants Pass, Klamath Falls, Lebanon, and Salem. 
"Safe Harbor" Statement under the Private Securities Litigation Reform Act of 1995:
This release includes forward-looking statements intended to qualify for the safe harbor from liability established by the Private Securities Litigation Reform Act of 1995. These forward-looking statements generally can be identified by phrases such as People's Bank or its management "believes," "expects," "anticipates," "foresees," "forecasts," "estimates" or other words or phrases of similar import. Similarly, statements herein that describe People's Bank's business strategy, outlook, objectives, plans, intentions or goals also are forward-looking statements. All such forward-looking statements are subject to certain risks and uncertainties that could cause actual results to differ materially from those in forward-looking statements.